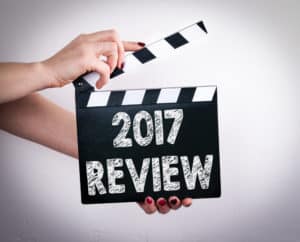 Happy New Year and all the best for 2018 from everyone at TailorMade Pensions.
What a year 2017 was for us, and we hope it was good for you as well.
As we look forward to our new strategies kicking in during 2018 (more mentioned later) it is always worth reviewing our current position and looking back on where we were a year ago, to see if we have progressed?
Strategy
Our strategy in 2017 was to consolidate the very real work we had done as part of Aisa Group, including OpesFidelio, by promoting customer service linked to fees. We also recognised the changing face of financial services in Europe, and beyond, both in terms of regulation and also technology.
Indeed, technology in financial services can be utilised to ensure that tougher regulations are adhered to and that customer service is modelled on the interpretation of treating customers fairly.
Did we succeed?
Awards
We swept the board at the International Investment Awards for the areas that we operate in picking up Best Best Practice for the UK, EU and overall globally seen as the best firm.
Our UK office won the regional Best Individual Retirement Planner  against tough opposition and well-known brand names such as Hargreaves Lansdowne and Chase de Vere (not to be confused with DeVere which is an expat commission driven firm)  and this was followed by our very own John Reid's excellent performance by picking up SIPP planner of the year at the Money Management (part of the Financial Times) Adviser awards.
We also won investment awards, International Adviser UK Investment adviser firm of the year 2017, and featured in the acclaimed MoneyFacts awards for the 3rd year out of 4, being a finalist for both 2016 and 2017.
Some of these awards are seen as the top awards any individual or company can be finalists in, with high due diligence, case studies and interviews as part of the process. To not only be a finalist but actually win, and beat some of the quality firms that also enters, is a testament to what we stand for.
We also won awards such as International Adviser best customer service for the second year running, as well as Inheritance Tax Planner of the Year and a "game changer" award for our CEO for inspiring others and being a leader in his field.
Social Media
We have worked on our social media presence as the investing public move more and more away from the traditional forms of communication and look towards the internet for answers about their investments and pensions.
As a result of all of this, the number of enquiries we are getting about pensions and investments has increased year on year dramatically. We aim to provide articles and blogs to help people understand more about their pensions and investments before taking the plunge, while making it easy to contact with us. We find this leads to better informed enquiries and more direct questions. We also aim to provide as much information about us, our ethos, our licences and our attitude to transparency 
MiFID II/IDD and LEI
We are pleased to say that we are satisfied we meet all the MiFID II requirements, as well as those dictated by IDD and are ready for the new regime, even though it is being put back a few months in Europe mainland. It is clear many adviser firms outside of the UK are just not ready for this. Talking about transparency and actually doing it are two very different matters.
Clients and our company benefit in the long run through there being an agreement up front as to what will be paid. We have, over the years, gradually reduced our initial fees as we become larger and more efficient, whilst we have retained and improved service standards for all our clients without increasing costs.
This has taken almost 10 years to achieve, and asking firms in Europe in particular to go through the same process in a matter of months – well, you can guess the likely outcome.
While firms in the EU and further afield charge 1% ongoing service fees, they often provide no service, or just put clients in tracker funds calling it low cost. When a client then leaves that firm and experiences our own service culture for a similar price (or sometimes lower) then the client begins to understand value rather than just cost.
We won all the awards we entered in 2017 except for two, and we believe we understand client value. Will we enter all these awards again in 2018? No. We have proved our point now, and we prefer to spend 2018 further spending our time on improving our service even more with the use of technology as a focus. We have actually been working on a project and committing money to it since 2016, and we hope that we will have exciting news for our clients, potential clients and future clients in 2018.
We also have our LEI  for both our UK and EU offices. Our CEO reminded everyone at the International Adviser  conference of the importance of the LEI rules. Many firms were not aware of this and many still have no LEI in place.
Pension Rules
The Autumn Budget 2017 hardly mentioned pensions, after the March Budget QROPS bombshell. The 25% tax charge did not come as a surprise to many who saw a lot of the QROPS sales as just that, sales not advice.  TailorMade Pension believe QROPS is, and always was, a niche market and should never have been marketed as mass-market pension product.
All of this means that pension transfer advice for expats going forward, particularly with Brexit looming, is going to require more specialised advice than before.
Free Pension Review
With the implementation of MiFID II and IDD (in a few months), one hopes we will start to see the end of the free pension review. Pension holders will finally be able to see the real costs once they take advice and so regulated advisers will have to disclose the costs up front. No more hiding behind opaque structures to hide undisclosed commission that ultimately locks clients into uncompetitive products for years, with the inevitable effect on their ultimate pension income. This is surely a positive development for both the profession and the clients.
It is worth pointing out that we at TailorMade Pensions do not offer a free pension review. If a transfer is not in the best interests of the client, particularly with defined benefits schemes, it is crucial that the adviser is paid and that the fees are not contingent on transferring .
We are constantly receiving enquiries from people who have lost large amounts of their pension funds, all as a result of a free pension review which has turned out to be anything but free!
In many cases, the clients are just not suitable candidates for a transfer (risk averse, reliant on guarantees etc.) or the transfer just does not make financial sense. A fee-based adviser will advise against a transfer in these cases and will not process the transfer- having been paid for this advice and the advice not being contingent on a client making a transfer that may not be in the best interests of the client or his/her family.
OpesFidelio
This is our network . We started it to allow individuals who wanted to improve standards, offer a better service culture and investment process, and to have access to our award winning culture. In 2017, we had almost 30 enquiries to join, and we rejected several of them! The culture starts with ensuring the right people are working within it. However, we have grown with some fantastic people. Several new countries are now covered with one new branch office opened in Dublin, Ireland. Nick and Rachel Reid formally set-up OpesFidelio (Ireland) Ltd  after having worked for a competitor for many years.
During a formal compliance visit in October, we witnessed the marketing and service concepts that we would like to see from all OpesFidelio members. They have immediately engaged with "cash-flow" modelling and fees. They have also immediately seen an upturn in business and profits.
They are not the only ones! With Marius Hampden (a fluent Spanish speaker who used to be regulated by CNMV in Spain) being a Chartered Financial Planner, he has bought a level of expertise with him that has allowed OpesFidelio to review taxation on Spanish bonds. That has been an eye-opener to us all.
It does not stop there. We have new advisers in France, a new recruit from Vienna, and also a new joint venture in Switzerland. Did we mention Cyprus and Italy?
Yes, OpesFidelio is a network that will continue to grow powered by people who really want to put their transparent business models and clients first.
So what does 2018 hold for TailorMade Pensions and OpesFidelio?
Less awards!
As we have previously written, we have made our point in 2017 by winning nearly every one we entered, and winning top awards in pensions, SIPP adviser, investments, customer service and best advice firm in multiple regions. We will enter a restricted number of awards in 2018.
We intend to focus our energy on FinTech (financial technology) for the improvement of service for clients. We also are in the process of being licensed in two further EU countries, those being directly regulated. Don't worry, we will let you know about them when they are approved.
For each country of operation, we will instil the same customer culture that we have in every other company and country that we operate in.
In the last year, we have looked at the adviser markets in Hong Kong, Malaysia and now Thailand. When the time is right, we will look to be regulated in the Far East (we already have enquiries from advisers who want to join us) but our focus is not South East Asia just yet.
There is no rush (although some potential clients say different and wanted us here yesterday), we want to take our time and grow organically with the right people to build quick sound business models. We have an instant impact in the areas that we move into as we purely operate through fees, rather than commissions, but we offer a better service for the same price or less for all our clients.
As for advice skills, we insist that our advisers are either working towards level 6 qualification if linked to the UK or the USA, or are working towards level 3/4 qualifications in other countries.
You would not get on a plane if the pilot was not qualified, but does anyone check if he/she is? Well, you can make the same assumption with TailorMade Pensions but you can also check, and we can provide the due diligence to prove it as well. (Other firms claim regulation or qualifications but once you do a little bit of due diligence you find out that the advice is not coming from the regulated firm or individual, but some other firm or individual elsewhere – Spain, Gibraltar and Cyprus should all raise alarms).
Where would TailorMade Pensions like to be in 2019? Well, where would you like to be in 2019 is the more important question? Indeed, where would you like to be in the future?
Look after the pennies and the pounds/dollars/euros look after themselves.
In order to take a long journey, you have to start with a small step. TailorMade Pensions made that small step 19 years ago when we were founded in the UK as Aisa which went on to be Aisa Group, which has TailorMade Pensions as part of it. You can make that same small step tomorrow. The only question is, "Will you?"
The views expressed in this article are not to be construed as personal advice. You should contact a qualified and ideally regulated adviser in order to obtain up to date personal advice with regard to your own personal circumstances. If you do not then you are acting under your own authority and deemed "execution only". The author does not except any liability for people acting without personalised advice, who base a decision on views expressed in this generic article. Where this article is dated then it is based on legislation as of the date. Legislation changes but articles are rarely updated, although sometimes a new article is written; so, please check for later articles or changes in legislation on official government websites, as this article should not be relied on in isolation.
This article was published on 3rd January 2018
---
Related Stories:
Advise Me