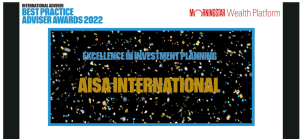 Showcasing global achievements in best practices in every aspect of business, wealth management firm Aisa International, has been crowned "Best in Investment Planning" in International Adviser's Best Practice Adviser Awards for 2022.
Best investment planning firms are judged by how well they coordinate investment strategies and respond to market volatility, how competent their assessment is of risks, the thoroughness of their approach to due diligence, and demonstrated evidence of client satisfaction.
In its deliberation, judges cited Aisa International's genuine innovation across regulated markets, its meticulous approach to investment planning, and its detailed client reports and information guides.
"We're thrilled to receive this particular award this year because we really pride ourselves on the job our investment committee has done for our clients in the face of an extremely challenging economy," said Chris Lean, Investment Director, Aisa International.
Aisa's network of advisers, OpesFidelio, also took top honors at this year's awards, which are decided by achievement evidenced through client and staff testimonials, among other things, presented by Morningstar Wealth Platforms and International Adviser.
OpesFidelio has been named Best in Client Services, which is awarded to firms that offer top-class advice that is perfectly matched to its client needs, for its highly detailed, engaged, and tech-driven financial portal, client retention, and fee transparency.
OpesFidelio also took the top spot for the Best Adviser Firm in Europe, which is awarded to firms that have a comprehensive, business-wide strategy for profitable growth and development.
After demonstrating evidence of a proven track record of success, and excellence in risk management, judges cited OpesFidelio for its, "due diligence, forward-thinking client-first manner, and the regulation and compliance running through its veins."
"It's a prestigious honour to be recognised in both of these categories because we have developed technological products using a business strategy that always puts our clients' needs first and foremost," said James Caldwell,   CEO, OpesFidelio and Aisa International.
The annual Best Practice Adviser Awards are given to firms spread across the UK, Europe, South Africa, the Middle East, and East Asia with 12 categories covering every aspect of business, from quality front-line advice to back-office support. In partnership with Morningstar Wealth Platform, International Adviser's awards seek to recognise firms that are putting best practices at the heart of everything they do for their clients and Aisa International and OpesFidelio have regularly appeared as winners in these awards.
                                                                   ###
The views expressed in this article are not to be construed as personal advice. You should contact a qualified and ideally regulated adviser in order to obtain up-to-date personal advice with regard to your own personal circumstances. If you do not then you are acting under your own authority and deemed "execution only". The author does not accept any liability for people acting without personalised advice, who base a decision on views expressed in this generic article. Where this article is dated then it is based on legislation as of the date. Legislation changes but articles are rarely updated, although sometimes a new article is written; so, please check for later articles or changes in legislation on official government websites, as this article should not be relied on in isolation.
---
---
Related Stories:
Advise Me