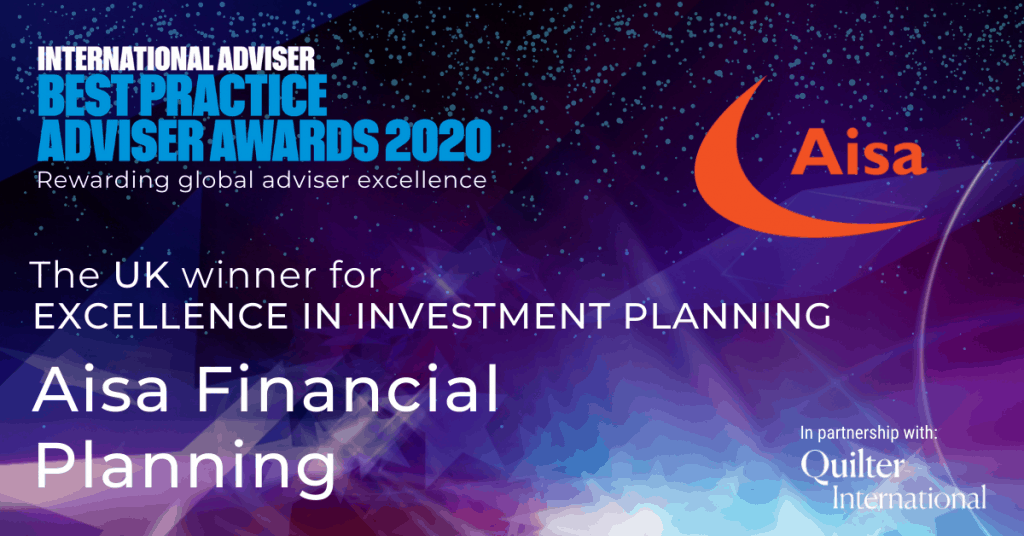 The International Adviser Awards took place last week and the winners of the Best Practice awards were announced.
Aisa Financial Planning won International Adviser's Excellence in Investment Planning. The International Adviser Awards judging panel said 'This is a strong proactive approach to the Pandemic, using in-house investment expertise to guide and support their clients. The segregation and size of the investment team demonstrate adherence to core principles with evidence of flexibility to adapt to a changing environment.'
International Adviser Awards
Aisa Group have won many awards since 2008 with this latest award taking us up to 30+ and from a trusted independent organisation. In fact we have won awards from no less then 8 different organisations over the years including owner publishers, the Financial Times, and we have featured in even more "finalist lists" taking us up to 50 different awards.
Our CEO says, "2020 has been a tough year for our clients, wherever they live. Our only thoughts back in March and April were the safety of our staff and clients alongside the protection of their jobs, investments and pensions.
"In our submission we provided case study evidence of our procedures as well as client feedback which has been excellent throughout these troubled times.
"To get the recognition through winning International Adviser's Excellence in Investment Planning, the only investment award we entered in the UK this year due to time constraints, is rewarding for our team and has already resulted in congratulations from our clients. We hope that this demonstrates our commitment to keeping on top of our game to provide the best client outcomes, whilst focusing on the needs of our staff at the same time.
"After a really tough year, this is possibly the most significant award we have ever won."
Article Date 30th November 2020 – Chase Buchanan Cyprus
The views expressed in this article are not to be construed as personal advice. You should contact a qualified and ideally regulated adviser in order to obtain up to date personal advice with regard to your own personal circumstances. If you do not then you are acting under your own authority and deemed "execution only". The author does not except any liability for people acting without personalised advice, who base a decision on views expressed in this generic article. Where this article is dated then it is based on legislation as of the date. Legislation changes but articles are rarely updated, although sometimes a new article is written; so, please check for later articles or changes in legislation on official government websites, as this article should not be relied on in isolation.
---
Related Stories:
Advise Me