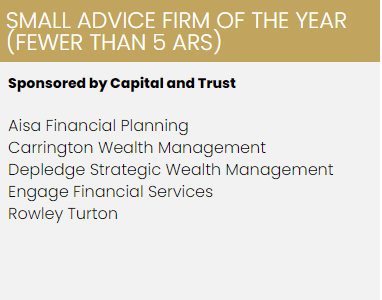 Aisa Financial Planning Limited is the FCA regulated UK office of Aisa Group ( Tailormade being a registered name of the Aisa Group) has been shortlisted in the Money Marketing 2021 Awards, and is one of five finalists from over 500 entries.
Aisa Financial Planning, who are a firm of Chartered Financial Planners  is a finalist in the UK Small Advice Firm Of The Year section of this year's Money Marketing awards.
Of course, Aisa Financial Planning is only a small, but important, part of the Aisa Group who are also regulated within the EU, the USA and South Africa and are ideally placed to provide advice to individuals that more between different jurisdictions.
The views expressed in this article are not to be construed as personal advice. You should contact a qualified and ideally regulated adviser in order to obtain up to date personal advice with regard to your own personal circumstances. If you do not then you are acting under your own authority and deemed "execution only". The author does not except any liability for people acting without personalised advice, who base a decision on views expressed in this generic article. Where this article is dated then it is based on legislation as of the date. Legislation changes but articles are rarely updated, although sometimes a new article is written; so, please check for later articles or changes in legislation on official government websites, as this article should not be relied on in isolation.
This article was published on 26th August 2021
---
Related Stories:
Advise Me