They say that imitation is the sincerest form of flattery, but imitation and misrepresentation is rife on websites like expatpensionreview.com where there is a hidden agenda.
We were quite surprised when a client told us about a competitor who seemed, just like ourselves, to have won a number of awards and was based in the UK and whose website also focused on expat pensions advice.
Awards- This is a screenshot from expatpensionreview.com

Even better, so it seemed, it appeared to be associated with the BBC, calling  itself the BBC Pension Review (You can see the link  Expatpensionreview- BBC Readers  ). In fact, we subsequently found out that if anyone accesses quality newspaper sites on the net Expatpensionreview- Telegraph, there are numerous links to expatpensionreview.com. We were surprised to see a prestigious newcomer to the expat pension advice arena that no-one had heard of before, we wanted to know our competition.
Disappointing Research
So, we checked out the pictures and names. We were alarmed to discover that the awards do not appear to be for expatpensionreview.com , they are for genuine organisations like Best Invest in the UK.
Just to be sure there was no connection with the genuine firms on display, we contacted a few to ask them. None of the firms had even heard of expatpensionreview.com
Just like Tailormade Pensions who have a remarkably similar display of awards , Bestinvest is a genuine and respected firm who had actually won the awards on merit as well.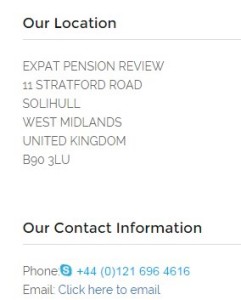 You can do a search the address given by expatpensionreview, but you might find the results interesting! There is a regulated firm based near there but they deny having anything to do with expatpensionreview.com . We checked with the UK Financial Regulator, the FCA , to establish if the expatpensionreview name and website is registered with the FCA or whether their internet firms/websites had any registration- or were even regulated at all. Unsurprisingly, they are not!
In fact, a search on www.whois.net does not show the owner of  the domain for expatreviewpension.com , it just shows the registrar as "Webfusion Ltd" ( and there is no more information there- although I guess we could go further). Then we did a search on the web registrant which was PO Box 795, GU7 9GA and the telephone number and this ScamWarners came up dating back years.
Regulation?
Surely, such a firm that  talks about its spectacular success with all its awards based in the UK would be a regulated firm in the UK?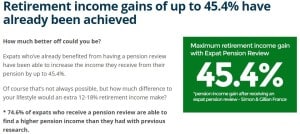 Did people really get 45.4% higher income or is that, as is often the case, capital withdrawals disguised as income that will ultimately leave the client with an empty pension pot and no income at all?
Not real
Imitating the style and awards of genuine pension and investment advisers, pretending to be UK based, may well be a great compliment. However, unfortunately, this reduces the credibility of the professional advice and fund management market.
If they chose to challenge us and clarify that they are genuine then we would be happy to forward the screenshots we have done along with their evidence of being genuine along to the FCA, since they claim they are UK based and therefore should have a relationship with the UK regulator.
UK Base?
Did we say that expatpensionreview is actually in the UK? Well, not according our client. He told us that the firm is in the EU, but not in the UK and provided information about the firm behind expat-pension-review and their location. Naturally, hundreds of miles away from where they claim to be on their website.
Awards
Here is a novel idea for those behind expatpensionreview.com , how about entering a competition and winning the award yourself, before you put up anyone else's achievements and claim them as your own?
By the way,   Bestinvest and  Investors Chronicle would like to have a chat with you as well if you wish to declare who you actually are openly.
The views expressed in this article are not to be construed as personal advice. You should contact a qualified and ideally regulated adviser in order to obtain up to date personal advice with regard to your own personal circumstances. If you do not then you are acting under your own authority and deemed "execution only". The author does not except any liability for people acting without personalised advice, who base a decision on views expressed in this generic article. Where this article is dated then it is based on legislation as of the date. Legislation changes but articles are rarely updated, although sometimes a new article is written; so, please check for later articles or changes in legislation on official government websites, as this article should not be relied on in isolation.
---
Related Stories:
Advise Me