SIPP Planner of the Year Award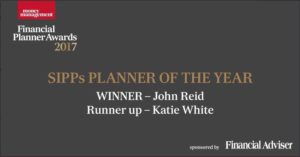 John Reid of Aisa Professional  won the prestigious SIPP Planner of the Year Award 2017 at the Financial Planner of the Year Awards
Money Management's (part of the Financial Times) annual Financial Planner Awards have long recognised the very best of the advice profession, often known as "Oscars" of the UK financial services.
There is considerable competition for each award category with the entrants having to provide a comprehensive financial report to the judges. Those that pass this stage are then invited in person to attend an interview to discuss a complex hypothetical case study and, based on that, the winner is selected- a very thorough process.
Best Best Practice Awards- International Investment
This award follows on from the success at the International Investment Awards 2017 
Aisa Group winning Offshore – UK Best Best Practice, EU Best Best Practice and overall Best Best Practice
Well done to John Reid in particular and all that contributed to these awards.
This article was published on 21st October 2017
---
---
Related Stories:
Advise Me