Brian Dunhill publishes his latest Investment Review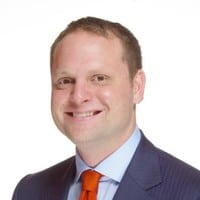 Brian is an International Financial Advisor at Dunhill Financial who operates in the EU offering expert advice to US citizens. Below he pens his thoughts on the current state of the investment markets through an investment review.
What does Brian think?
February has been a rollercoaster for the markets, but after a quick recovery, we can only wish for a little more stability. Oddly enough with the definition of a correction being a drop of at least 10% from the high point, this 8% pullback will only be defined as "noise." That being said, it gives us a reminder that just because 2017 gave us 12 months of positive returns (for the first time in history), we have to be vigilant of potential future problems.
Investment Review by Brian
I've spent the week in London and Edinburgh (for the worst snow storm since 2010) visiting some friendly economists as we continue to find the next problem that could come about. We continue coming back to inflation, inflation, inflation! So sorry if I get repetitive. We are working on a full analysis as to why the Schiller PE can remain high as long as we don't go into deflation or regular inflation over 2% (article co-written with Isa coming soon). That would mean that some of this stimulus in the states could be more harmful rather than helpful.
Investments – March 2018 views
All this being said, a continued weakening USD (article link – LinkedIn) will continue to help the US economy and also emerging markets significantly. Therefore, we continue to stay the course, rebalance some of the big gains from last year on weakness (and take losses if they appear – LinkedIn).
As always, if you have questions, concerns or would just like to discuss your portfolio, please feel free to schedule a time to speak here. I will also be in Brussels, London and Dublin this month and Paris, London, Amsterdam, Brussels and San Diego in April, if you happen to be in town and would like to meet face to face, please feel free to call me at +32(0)483 392 695 or e-mail me at info@dunhillfinancial.be
End of article: Investment Review March 2018
Forensic Review

We offer a forensic review of your current offshore pension or SIPP and investments they hold. The fact is that increased investment reviews combined with lower charges may make a significant difference at retirement by boosting potential returns according to research published in the New York Times.
Have you been caught out? Some offshore salesmen promoting QROPS as an investment solution live in a parallel universe where they claim to make world stock markets behave differently by transferring pension funds offshore, than if the same funds are used from and within UK pension funds. Think and behave logically, if promises of bigger returns can only be achieved by moving to a QROPS or International SIPP then why hasn't the entire UK pension industry moved offshore? It hasn't!
The views expressed in this article are not to be construed as personal advice. You should contact a qualified and ideally regulated adviser in order to obtain up to date personal advice with regard to your own personal circumstances. If you do not then you are acting under your own authority and deemed "execution only". The author does not except any liability for people acting without personalised advice, who base a decision on views expressed in this generic article. Where this article is dated then it is based on legislation as of the date. Legislation changes but articles are rarely updated, although sometimes a new article is written; so, please check for later articles or changes in legislation on official government websites, as this article should not be relied on in isolation.
This article was published on 12th March 2018 – Investment review contact details: info@dunhillfinancial.be
---
Related Stories:
Advise Me