Brian Dunhill publishes his latest Investment Review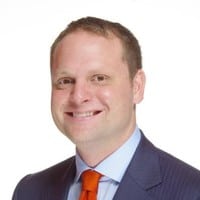 Brian is an International Financial Advisor at Dunhill Financial who operates in the EU offering expert advice to US citizens. Below he pens his thoughts on the current state of the investment markets through an investment review.
What does Brian think?
This week the stock markets plunged and the S&P 500 Index fell more than 7%, wiping out all of 2018's gains. 2017's gains are still safely in tact.
Anticipated stock market volatility grew, measured through the CBOE VIX index, this was aggrandised by the bankruptcy of a few reverse volatility ETN structures.
No shift into risk-off investments. Unlike most stock market selloffs in the past, there was no shift into risk-off or rush to safe-haven assets. Gold actually declined in value, Treasury yields stayed firm, utilities and consumer staples, the typical defensive sectors, also suffered significant losses. We also didn't see an aggressive shift in the USD, which means this is a temporary correction, not a change in sentiment.
Investment Review by Brian
The word volatility in regards to the market normally has a negative connotation, in 2017 it was just non-existent. The S&P 500 Index didn't fluctuate more than 2% in any trading day of 2017, a feat not achieved since the 1960's. Last year was the first ever that the S&P 500 Index posted a gain every month. The VIX traded at around 11 for most of last year and we finally have some fear in the market that things could change. We need to remember that this is a gauge of potential downward but also upward growth.
Any time the market declines 10% or more, it is categorised as a correction. While we haven't achieved this level, it is not out of the question. Corrections are short-term buying opportunities, while a bear market or recession last much longer. We don't have any indication of either being on the horizon.
Investments – February 2018 views
The global economy is healthy all around, most central banks' policies are still stimulating their economies, and the US tax overhaul will help further growth. Companies are still expanding their profits and this will be even more so as the banks become more profitable with higher interest rates. We will still need to keep an eye on some of the global political turmoil with Brexit, Poland, Czech Republic, Hungary and the current administration in the US. Rising inflationary concerns will still be at the top of our minds which could effect Federal Reserve policy, the speed of future interest rate hikes, and the end of a 30-year bull market for bonds. This would first effect the real estate market and not until the 10 year gets to 5% would if affect the stock market (currency at 2.85%).
Although no one can predict what might happen next week or month, with a long term perspective this is nothing less than a buying opportunity. As always, if you have questions, concerns or would just like to discuss your portfolio. Please feel free to call me at +32(0)483 392 695 or e-mail me at info@dunhillfinancial.be
End of article: Investment Review February 2018
Forensic Review

We offer a forensic review of the 10 reasons to use a QROPS for those that would like revisit the QROPS and investments they hold. Increased investment performance and lower charges may make a significant difference at retirement.
Some offshore salesmen promoting QROPS as an investment solution live in a parallel universe where they claim to make world stock markets behave differently in QROPS than they do if the same funds are used from and within UK pension funds. Think and behave logically, if promises of bigger returns can only be achieved by moving to a QROPS then why hasn't the entire UK pension industry moved offshore? It hasn't!
The views expressed in this article are not to be construed as personal advice. You should contact a qualified and ideally regulated adviser in order to obtain up to date personal advice with regard to your own personal circumstances. If you do not then you are acting under your own authority and deemed "execution only". The author does not except any liability for people acting without personalised advice, who base a decision on views expressed in this generic article. Where this article is dated then it is based on legislation as of the date. Legislation changes but articles are rarely updated, although sometimes a new article is written; so, please check for later articles or changes in legislation on official government websites, as this article should not be relied on in isolation.
This article was published on 8th February 2018 – Investment review contact details: info@dunhillfinancial.be

---
Related Stories:
Advise Me