South Africa Financial Services Board (FSB) will limit upfront commission to 50% as further details emerge on how the regulator will introduce the first set of Retail Distribution Review (RDR) measures.
International Adviser reported that the FSB has unveiled a new regulatory framework for insurers and financial advisers including a comprehensive list of commission caps as well as a ban on upfront commission.
South Africa Financial Services Board 50% commission cap
Aisa believes that this will move remuneration more toward servicing as in the UK. It is being phased in an attempt to deliver some future sustainability into adviser models. The regulator has said it is looking to bring in the first phase of the RDR legislation by the first half of this year.
Experts in South Africa believe the regulator will impose a blanket commission ban on all investment-related business. The South Africa Financial Services Board have stated their intentions.
The South Africa Financial Services Board are undoubtedly looking north towards the UK for future plans and it will lead to regulated advisers needing to agreeing fees for advice and intermediary services with clients directly, although it is anticipated that the fees can continue to be paid from within customer portfolios on a basis agreed with the customer.
https://international-adviser.com/
South Africa Financial Services Board licence – Aisa International
"The upcoming introduction of the Retail Distribution Review in 2017, which aims to overhaul the South African financial services sector, meant that the proposed regulations fitted in well with Aisa's fee-based business model" said Clive Tutton, Aisa Group's Finance Director who recently received awards on behalf of Aisa International and the OpesFidelio network, part of the Aisa Group.
The South African Financial Services Board ( FSB)  approved the investment licence number 47638  for Aisa International  (Pty) Ltd on 6th December, 2016.
Aisa International directors, who are locally based in Cape Town, said,  "It is the intention of Aisa to use our licences, knowledge and cross border expertise from the USA and the UK to assist South African residents with investments that span those countires. We can also assist with and advise on USA investments and retirement plans as well as British pensions and UK Investments with qualified experts in those areas and we are wholly fee-based and transparent charges, with no commissions."
Background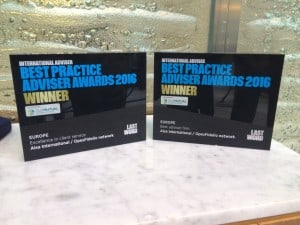 Aisa and their network OpesFidelio recently won " Best Practice Adviser" and "Best Client Services" in the European Best Practice IFA category of the International Adviser awards for 2016 and intend to bring this high equivalent level of service to South Africa financial advisers.
They have also won multiple other awards for their advice and service based principles since 2009, and been finalists with various publications from the FT through to Moneyfacts in the UK.
Aisa International (Pty) Ltd is part of the Aisa Group, originally formed from the Chartered Financial Planning firm and FCA regulated UK firm trading as Aisa Professional but now operating under regulation MiFID and IMD passports in the EU. Aisa Group also have an independent office in Prague as well as being  a USA SEC licence holder. They also have connections with Australia and Hong Kong.
South Africa Financial Services Board end
The views expressed in this article are not to be construed as personal advice. You should contact a qualified and ideally regulated adviser in order to obtain personal advice with regard to your own personal circumstances. If you do not then you are acting under your own authority and deemed "execution only". The author does not except any liability for people acting without personalised advice, who base a decision on views expressed in this generic article.
This article was published on 5 January 2017
See various video's about this at our channel TAILORMADE FUTURE.
---
---
Related Stories:
Advise Me