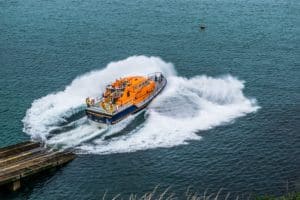 The Pension Protection Fund will step in to protect those 28,000 members of the Carillion DB schemes as part of the assessment process once the liquidator is appointed to the whole group.
At time of writing, a number of companies within the Carillion Group have gone into liquidation and so 5,900 pension members are now being assessed for the Pension Protection Fund. Already, some commentators have noticed the vultures swooping as they pay for Google Ad Words to persuade members of the Carillion pension scheme to transfer.
This raises a couple of issues-
These, largely unregulated, introducers probably are not aware that when a company within the group goes into liquidation the assessment process for the Pension Protection Fund starts. In other words, transfers out are not possible.
There has already been some scaremongering, aimed at Carillion members, by certain IFA firms about the financial strength of the Pension Protection Fund. It is not called the Pensions Lifeboat for nothing. As commentator Henry Tapper said "there is plenty of room for the Carillion pension members with space for pud"
Pension Protection Fund
The PPF was stress-tested for up to 5 billion pounds, over 5 times the estimated deficit that will be taken over from Carillion.
In fact, as this table shows, the PPF is estimated to be 150% funded by 2030 by which time it should be self-sufficient. This is a rare Government success story.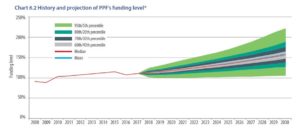 Many pensions in payment will see little effect and most of those deferred pensioners will still get 90% of what they expected in the main ( without going into great detail but this can all be read here ). Given the reports of excessive hidden commissions and fees, surely most will be better off in the Pension Protection Fund than those that transfer- if transferring because of some supposed fear of the Pension Protection Fund is the reason.
Scaremongering
Jo Cumbo of the Financial Times wrote an article about the concerns of scaremongering
''The UK's Pension Protection Fund has warned it will report any companies making "dubious" claims about its financial strength as it prepared to take on thousands of members of the pension schemes attached to collapsed construction company Carillion…..to both the  Pensions Regulator and the FCA"
Pension Transfer Advice
Without wishing to state the obvious, a transfer should only be considered on the actual merits versus the loss of guarantees. All considerations must be based on the facts and real needs of the pension member and not some pension sign off where the liability for risk and the decision to transfer is placed unfairly on the member.
The views expressed in this article are not to be construed as personal advice. You should contact a qualified and ideally regulated adviser in order to obtain up to date personal advice with regard to your own personal circumstances. If you do not then you are acting under your own authority and deemed "execution only". The author does not except any liability for people acting without personalised advice, who base a decision on views expressed in this generic article. Where this article is dated then it is based on legislation as of the date. Legislation changes but articles are rarely updated, although sometimes a new article is written; so, please check for later articles or changes in legislation on official government websites, as this article should not be relied on in isolation.
This article was published on 17th January 2018
---
---
Related Stories:
Advise Me