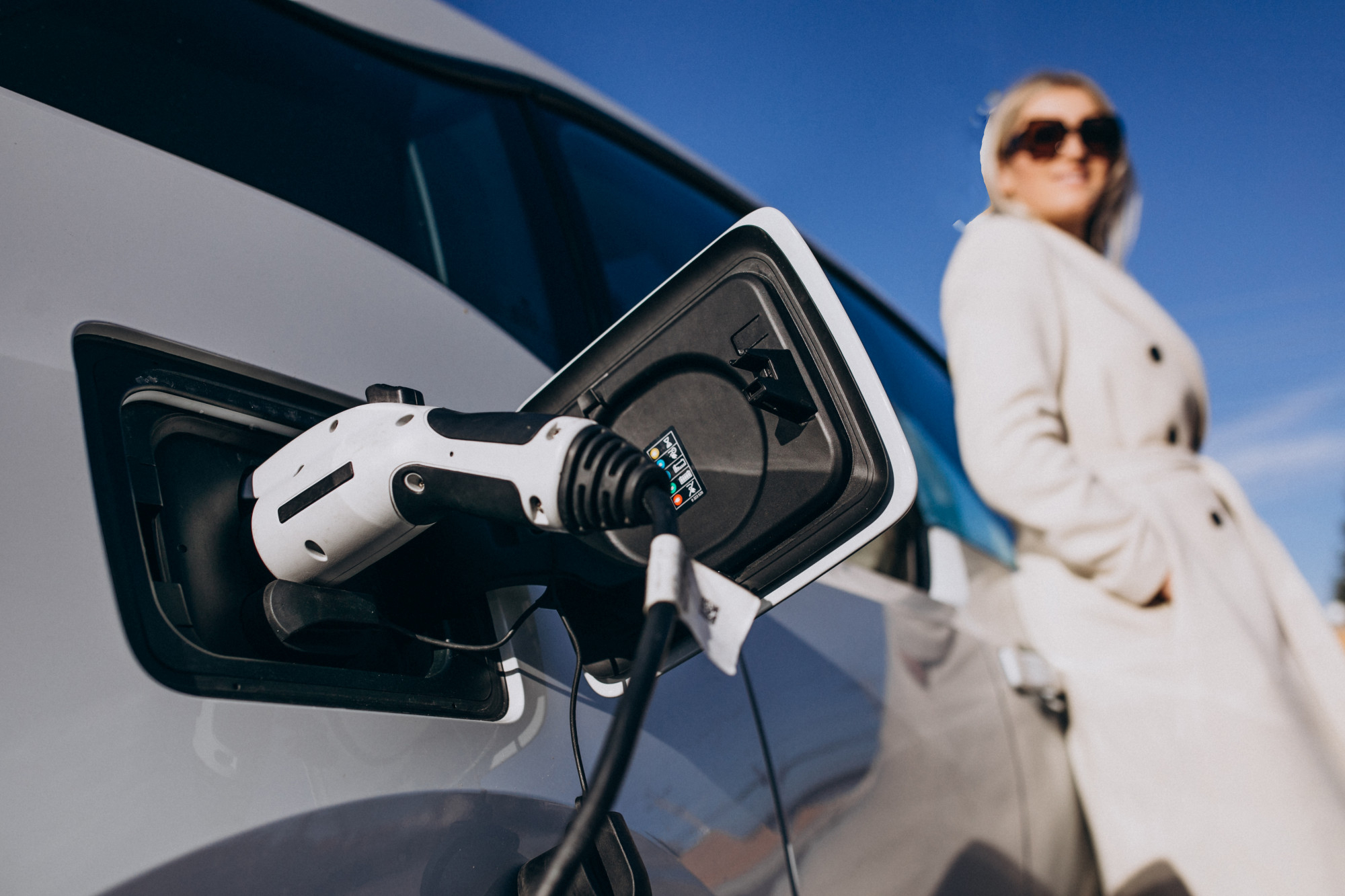 Image by senivpetro on Freepik
Electric vehicles are the focus of investment as countries across the globe commit to phasing out fossil fuel use.
Electric vehicles are the leading choice in the worldwide efforts replace internal combustion engines by 2040.
However, there are hurdles to get over to reach aggressive goals for zero emissions. These include price, production, materials, costs, charging options, and trip range. 
United States Goals 
New emissions limits, announced in April 2023, are intended to ensure that all-electric models make up 54% to 60% of new vehicles sold in the United States by 2030, and 64% to 67% by 2032. 
Importantly, 2030 is also the target year to cease production of internal combustion engines (ICEs).  
Following that, the phase-out of ICEs from the entire population of motor vehicles is to be completed by 2040. 
European Union Goals 
In March 2023, the EU approved a plan to end the sale of new fossil fuel vehicles in 2035.  
Vehicles at that time will be required to have zero emissions. For this reason, even hybrids will fail to make the cut. Only new battery electric or hydrogen fuel cell vehicles will be sold in the bloc, unless they are designed to use carbon-neutral synthetic fuels. 
In order to satisfy Germany's request, vehicles that run on synthetic fuels will be accepted within the plan. Although synthetic fuels are still in development, the hope is that they can be made from CO2 using green energy, thus making them carbon neutral for emissions purposes. 
Growing Worldwide Commitment 
The 27-nation bloc joins more than a dozen other nations (as of April 2023) that have set deadlines for ending sales of new cars with ICEs, which emit toxic gasses that are a major driver of climate change. 
China is world's top polluter with the world's largest auto market. It aims for battery electric, hybrid, and fuel cell vehicles to account for 20% of sales in 2025. After that, it aims for them to account for a majority by 2035. 
Current EV Sales 
Sales of purely electric vehicles in the US represented only 5.8% of the 13.8 million new cars and trucks sold in 2022.  
In the EU, fully electric vehicles represented 12.1% of new car sales in 2022. 
US Strategy 
The electric vehicle goals set in the US depend not only on renewed efforts from the government, but from across a variety of industries and manufacturing sectors. 
The US federal government has committed over $200 billion for clean energy, electric vehicles and battery investments under the EV Acceleration Challenge.  
The plan introduces dozens of federal partnerships and incentives that will drive domestic manufacturing, including battery production, and build a national network of EV charging stations. 
The incentives go further, to aid in electrifying heavy-duty vehicles like school buses, and include support for the installation of residential, commercial, and municipal EV charging infrastructure. 
Additionally, consumers can get up to $7,500 in tax incentives when they purchase a new electric vehicle, if it meets the requirements. 
Automakers Have Work to Do 
Tesla remains on top, accounting for 65% of the total EV sales in the United States in 2022. In fact, Tesla sold more cars than the other 17 automotive groups combined. 
However, other automakers are definitely vying for their share of the rapidly evolving market. 
General Motors set a goal of phasing out the sale of all its internal combustion vehicles by 2035, which is five years before the government's deadline. 
Ford Motor Company is on track to spend $50 billion from 2022 through 2026 on its electric vehicle production. Yet it will need to spend billions more to achieve the US's EV goals. 
Volkswagen and Stellantis, the company formed through the merger of Fiat Chrysler and Peugeot, have similar targets. Hyundai and Nissan are also ramping up EV production. 
The Challenges 
The increasing concerns of climate change, added to the economic slump currently experienced by most nations has led to the ramp up of EV production and use.   
In order to achieve the aggressive emissions goals, rapid transformation is needed across entire industries. These include battery technology, supply chain and manufacturing capacity, and charging infrastructure. 
Needed Materials 
EV companies need critical metals, such as lithium, cobalt, nickel, and copper to build lithium-ion batteries. These metals are in high demand in other industries, as well. Solar panel manufacturers, wind turbine companies, chipmakers, data centers, battery storage facilities, and 5G network providers all need critical metals. 
While the U.S. has deposits of lithium in Nevada, it currently doesn't have sufficient mining operations to extract large quantities. 
The world produces only a small fraction of the lithium needed to support the aggressive increase in EVs in the United States, Europe and China, markets where more than 50 million cars were sold last year. 
Expensive Sales Price 
Electric cars are still too expensive for many consumers. For example, Rivian's most affordable truck, the R1T, costs $69,300. Likewise, Ford's F-150 Lightning is $59,974. In contrast, a Ford Maverick XLT gas engine truck is $22,595 — 67% cheaper than Rivian's truck. 
At the end of 2022, the price of an average new ICE car was $49,507 compared with $61,448 for an electric vehicle, according to the Kelley Blue Book. 
Trip Range 
Running out of charge, with no way to recharge, is still a big concern for drivers. Although the actual range of most electric cars has risen considerably in recent years. 
Cars such as the Mercedes EQS 450+ can travel 453 miles between charges. In fact, even the cheaper EVs like the Hyundai Kona Electric can travel 300 miles with its integrated batteries. 
Charging 
The act of charging – rather than filling – a car presents a new set of challenges. Currently, there are three types, or levels, of charging. 
Level 1 Charging 
All EVs come with basic charging units that allow them to plug into a standard 120-volt wall socket in a garage or driveway when the car is not in use. A full charge can take eight hours or more using 120v current. 
Many EVs use a smartphone app, where owners can schedule charging during certain hours when electricity is cheaper if the local electric company offers discounted off-peak rates. 
Level 2 Charging 
This uses 240-volt, like a clothes dryer in the US. It takes around four hours to fully replenish an EV's battery, depending on the model. Initial costs include installing of the 240v plug in the garage. 
Public chargers are commonly Level 2. Therefore, drivers can use them to 'top off' an EV's battery over lunch or while shopping. 
Drivers can visit the online Alternative Fuels Data Center to learn where electric charging stations are available wherever they go. 
Level 3 Charging 
Level 3 charging is also called DC fast charging. This is the quickest system of all. With Level 3, drivers can bring an EV's battery up to 80% of its capacity in just 30 minutes. 
Some Level 3 chargers use different connecting configurations than others, requiring an adaptor.  
Finally, Tesla Superchargers can be used only with Tesla vehicles. 
Try Before You Buy 
In 2021, the Hertz rental car company bought 100,000 Teslas, making EVs 20% of its fleet. Most other major car rental companies are similarly adding electric vehicles to their fleets. 
"Rental cars are an excellent way to move EVs from niche to mainstream," said Drew Kodjak, executive director of the International Council on Clean Transportation, a research organization. "[Renting] offers consumers a way to test-drive electric vehicles for a few days, see if they like them, see how they feel about range anxiety," he said. 
Is One Right for You? 
Fortunately, the Sierra Club has launched a 'pick-a-plug-in' web tool to help people figure out which electric cars, if any, are right for them. 
See Also: 
Robots vs Humans: Will AI Replace Financial Advisors?
Aisa International, s.r.o. is a wealth management firm with an award-winning team who provides investment advice, financial planning, and asset management for U.S., U.K., and E.U. expatriate citizens residing abroad. Holding all current regulatory licenses, including the FCA license in the UK and the Investment Licence in the European Union, Aisa International is uniquely qualified to provide personal financial advice for U.K. pensioners living outside of the U.K. Headquartered in Prague, Czech Republic, Aisa International serves its global clients where they reside through its OpesFidelio network of highly-qualified advisors. For more information, please visit www.asiainternational.cz. 
The views expressed in this article are not to be construed as personal advice. Therefore, you should contact a qualified, and ideally, regulated adviser in order to obtain up-to-date personal advice with regard to your own personal circumstances. Consequently, if you do not, then you are acting under your own authority and deemed "execution only". Importantly, the author does not accept any liability for people acting without personalised advice, who base a decision on views expressed in this generic article. In addition, where this article is dated then it is based on legislation as of the date. Subsequent legislation changes but articles are rarely updated, although sometimes a new article is written; so, please check for later articles or changes in legislation on official government websites, as this article should not be relied on in isolation. 
---
---
Related Stories:
Advise Me