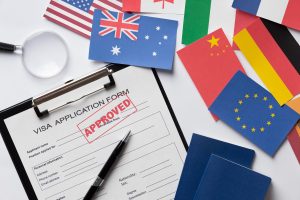 The European Commission is proposing new visa rules that could significantly benefit expats from non-EU countries (third-country nationals) living and working in the European Union.
The proposal aims to shorten the period required for expats to live in the bloc to obtain residency from five years to three.
Additionally, the proposed changes would allow third-country nationals to combine periods of legal residence in different EU member states, enhancing flexibility and freedom of movement within the bloc – a huge benefit for expats who live and work in the EU.
The European Parliament has expressed its support for proposed changes to the visa rules, aiming to make it easier for non-EU residents to move around the bloc and obtain long-term resident status.
Currently, when a non-EU resident moves to a new country within the bloc, the clock on their residency requirement resets, which creates a cumbersome process and discourages mobility within the EU.
The proposed revision to the visa rules seeks to eliminate this hurdle, permitting individuals to accumulate their residency periods across various member states.
By doing so, third-country nationals can explore different countries, work in diverse environments, and contribute their skills and expertise across the European Union.
Before these changes can be implemented, EU governments must reach an agreement on the proposal, as the final decision rests with the member states.
Free Movement is Considered a Right in the EU
Freedom of movement is one of the EU's founding principles, and it means that EU, EEA, and Swiss citizens have the right to move freely within the territory of the European Union, European Economic Area, and Switzerland.
The right of free movement was initially intended for workers who could support themselves in the destination country, but it has been expanded to include other categories of people, such as students, job seekers, and self-employed individuals.
Unlike the United States, any professional licensure obtained in one EU member state is generally valid, "with no further qualifications required" in any other EU member state.
For example, in the EU, a citizen can obtain a license to practice law, a teaching credential, or accounting certification in their home country and then move to any other E.U. state and have those qualifications not only recognized, but validated almost automatically without any additional training, testing, or education.
This is non-existent in the U.S. federal system – if an American citizen is licensed to practice law in California, for example, he/she may not practice law in New York without sitting for the state bar exam a second time, passing, applying for, and getting approved to also be licensed in the new state.
The same requirements apply to teachers, doctors, nurses, counselors, electricians, real estate agents, accountants, hairdressers, etc. – all require unique licensure to practice in each and every state they want work, and, additional local training or education is usually compulsory because the requirements to practice within each state greatly vary.
However, in the EU, the free movement of workers is one of the fundamental freedoms within the bloc, and every EU national has the right to work and live in any EU country without the need for a work permit.
At a Glance: Visa Requirements

Current Residency Requirements:
To obtain long-term residency in the EU, non-EU nationals must meet the following requirements:
Legal residence in an EU country for at least five years.
Not leaving the EU country for more than six consecutive months or a total of 10 months over the entire time they have lived there.
Proof of health insurance.
Stable financial income (monthly minimums vary by country).
Competent language skills and cultural knowledge test (in some countries).
It is important to note that most EU states issue a national permit rather than an EU-wide one, which may require additional checks.
Proposed Changes to Requirements:
Reduce the required period of legal residence to obtain long-term resident status from five years to three.
Third-country nationals would be able to combine periods of legal residence in different EU member states, instead of resetting the clock with each move.
This would make it easier for non-EU residents to move around the bloc and gain long-term resident status much faster.
Potential Economic Impact
The potential benefits for businesses and economies within the EU are also noteworthy.
Proponents say the changes to visa rules could attract more skilled professionals and entrepreneurs to the region, fostering innovation, economic growth, and cultural diversity.
By removing barriers to mobility, the EU would become a more attractive destination for third-country nationals seeking to contribute their talents and expertise, which could boost economic growth and development.
Additionally, it would potentially attract more talent from outside the bloc, which would help address the increasing shortage of skilled workers, leading to higher productivity, innovation, and economic growth in the long run.
There could also be an impact on housing demand in the EU.
Experts say the increased demand could lead to higher housing prices and rents, particularly in metropolitan areas where affordability is already challenging.
The actual impact on the housing market would depend on various factors, such as the number of expats who take advantage of the new rules, their preferences for housing types and locations, and the ability of the housing market to respond to increased demand.
Additionally, the increased number of third-country nationals living and working in the EU could lead to higher consumer spending, boosting local economies and generating additional tax revenues for member states.
Overall, the proposed changes to the visa rules are a step toward a more inclusive and dynamic EU, facilitating the integration of more expats and promoting the exchange of knowledge, skills, and cultural diversity within the bloc.
The potential benefits are substantial — if the proposal gains approval, the new rules could be finalized by February 2024, prior to the next European Parliament elections.
                                                                     ###
The views expressed in this article are not to be construed as personal advice. You should contact a qualified and ideally regulated adviser in order to obtain up to date personal advice with regard to your own personal circumstances. If you do not then you are acting under your own authority and deemed "execution only". The author does not accept any liability for people acting without personalised advice, who base a decision on views expressed in this generic article. Where this article is dated then it is based on legislation as of the date. Legislation changes but articles are rarely updated, although sometimes a new article is written; so, please check for later articles or changes in legislation on official government websites, as this article should not be relied on in isolation.
---
---
Related Stories:
Advise Me