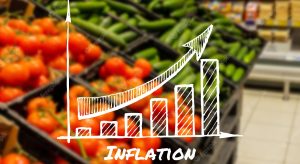 Food prices in the UK have been rising at an alarming rate, with the cost of basic essentials adding to the pressure from sky-high energy bills amid the cost-of-living crisis.
As Brits continue to grapple with record prices, new figures show that food and drink inflation reached 19.1% in March 2023, far above the headline rate of 10.1% for the increase in the cost of an average basket of goods and services.
This​​ is the sharpest​​ 12-month increase​​ since August​​ 1977, according to the Office for National Statistics (ONS).
The​​ largest contributor​​ to the rise in​​ food inflation​​ was bread and​​ cereals, for​​ which average​​ prices rose by​​ 19.4%, with cucumbers (up 52%), olive oil (49%), and hard cheese (44%) seeing the largest individual increases.
Sample Food Price Increases from May 2023
Cucumbers: up 52%
Olive oil: up 49%
Hard cheese: up 44%
Bread and cereals: up by an average of 19.4%
Takeaway fish and chips: up by 19% (an average increase of £1.44 to £9.00)
Why are Food Prices so High?
Several factors have contributed to the rise in food prices in the UK, including:
Poor Harvests: Food prices, especially for fruit, vegetables, and sugar, have risen after poor harvests in Europe and North Africa reduced availability.
Supply Chain Disruptions: The COVID-19 pandemic has caused significant disruptions to global supply chains, leading to shortages of certain foods and higher prices for others. For example, shipping container shortages have led to higher transportation costs, which have been passed on to consumers.
Brexit: The UK's departure from the EU has led to increased costs for importing food from Europe due to new customs checks and paperwork requirements.
Energy Costs: Energy costs have also contributed to rising food prices. The cost of energy is a significant factor in food production and transportation, and higher energy costs have led to higher food prices.
Retailers Respond to Crisis
Overall, retailers are facing a challenging environment as they try to balance rising costs with the need to remain competitive and attract customers.
UK retailers are responding to the rise in food prices in several ways, including:
Lowering Prices: The British Retail Consortium (BRC) reported that lower prices are on the horizon, with food prices expected to come down in the coming months as the cut to wholesale prices and other cost pressures filter through. The BRC also reported that overall inflation among its members dropped to 8.8% in April from March's 8.9% as price increases for non-food items slowed due to heavy discounting of clothing, footwear, and furniture.
Offering Discounts: Some retailers have also reported a decline in sales as consumers cut back on spending due to higher prices and in response, these stores are offering discounts on certain food items to attract customers or discounts on fresh produce that are in season and locally grown.
Changing Suppliers: Some retailers are changing suppliers to find cheaper alternatives. For example, some supermarkets are sourcing more of their fresh produce from the UK to avoid the higher costs associated with importing from Europe. The impact of rising food prices on UK retailers has been mixed – on one hand, retailers have seen increased revenue due to higher prices. However, increased costs associated with sourcing and transporting food products have offset this.
Tips for Consumers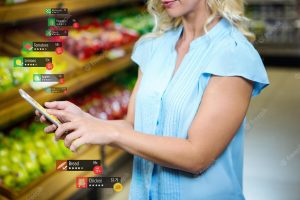 There are several different ways UK consumers can save money on food and drink and survive amid record prices.
Shop Smart
One of the best ways to save money on food is to shop smart. This means planning home meals in advance, making a list before going to the store, and buying only what you need.
It also means looking for deals and discounts, such as buy-one-get-one-free offers or discounts on bulk purchases.
Shopping at discount retailers can also help consumers save money on groceries.
Buy Locally Produced Foods
Buying locally produced foods can help consumers save money on food and drink. Locally produced foods are often less expensive than imported options and can be fresher as well.
Consumers can find locally produced foods at farmers' markets, community-supported agriculture programs, and local grocery stores.
Reduce Food Waste
Reducing food waste is another way to save money on food. This means using up leftovers, planning meals around ingredients that are about to expire, and buying only what you need.
It also means storing food properly to prevent spoilage and using up all parts of fruits and vegetables, such as using carrot tops in a salad or making vegetable broth from scraps.
Consider Plant-Based Options
Plant-based options can be less expensive than meat-based options, making them a good choice for consumers looking to save money on food.
Plant-based options include beans, lentils, tofu, and tempeh – these options are often less expensive than meat and can be used in a variety of dishes.
Take Advantage of Government Programs
The UK government offers several programs that can help consumers save money on food.
These programs include the Healthy Start scheme, which provides vouchers for pregnant women and families with young children to buy fresh fruit, vegetables, milk, and infant formula.
The government also offers free school meals for eligible children.
Online Resources to Find Coupons and Discounts  
Supermarket Websites: Many supermarkets have websites that offer online shopping and home delivery services. These websites often feature special deals and discounts that are not available in-store. Consumers can also use these websites to compare prices and find the best deals on the items they need.
Coupon Websites: Coupon websites like VoucherCodes, Groupon, and HotUKDeals offer printable coupons and digital vouchers that can be used to get discounts on food and drink.
Price Comparison Websites: Price comparison websites like MySupermarket, Trolley, PriceRunner, and Kelkoo can help consumers find the best deals on food and drink.
Recipe Websites: Recipe websites like BBC Good Food, Allrecipes, and Jamie Oliver can help consumers save money on food by providing cheap meal ideas and recipes that use affordable ingredients.
Food Waste Reduction Websites: Food waste reduction websites can help consumers save money by providing tips and advice on how to reduce food waste. Websites like Love Food Hate Waste, Zero Waste Scotland, and WRAP give advice on how to store food properly, use up leftovers, and plan meals around ingredients that are about to expire.
Apps to Help Save Money
 Free Food Apps: Several free food apps in the UK offer coupons and discounts on food and drink, including:
Toogoodtogo
Mealpal
Embargo
Karma
OpenTable
Restaurant Discount Apps: Many restaurant discount apps can also help consumers save money on food and drink, including:
Tastecard
Hot Dinners
Soft Launch London
Cashback Apps: Several apps offer rebates on purchases made at supermarkets and other retailers, including:
Shopmium
CheckoutSmart
GreenJinn
Other Resources to Help
Shopify has compiled an extensive list of Comparison-Shopping Tools that allow consumers to compare pricing, shipping options, and provided services from multiple retailers on a single webpage, and identify the merchant that offers the best deal.
What to Expect for Prices Going Forward
According to a report by thinktank Resolution Foundation, food prices are expected to contribute "more to overall inflation than energy" in the months ahead.
Between March and September 2023, food prices are expected to contribute around 2 percentage points to inflation each month, while the contribution of energy prices is set to fall from 3 percentage points to less than 1 percentage point.
However, UK retailers report that lower food prices are on the horizon – food prices are expected to come down in the coming months as the cut to wholesale prices and other cost pressures filter through.
         ###
The views expressed in this article are not to be construed as personal advice. You should contact a qualified and ideally regulated adviser in order to obtain up to date personal advice with regard to your own personal circumstances. If you do not then you are acting under your own authority and deemed "execution only". The author does not accept any liability for people acting without personalised advice, who base a decision on views expressed in this generic article. Where this article is dated then it is based on legislation as of the date. Legislation changes but articles are rarely updated, although sometimes a new article is written; so, please check for later articles or changes in legislation on official government websites, as this article should not be relied on in isolation.
---
---
Related Stories:
Advise Me