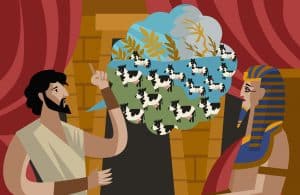 While saving for retirement is essential, we understand why it may be low on the list of things for you to think about. However, we want to give you something to think about, given the current situation with Covid-19, and show that current events are not entirely unprecedented.
To ignore your pensions, savings and investments at a time like now could be very costly for you later on.
We have all heard of the biblical references to "feast or famine" and so we can give thought to what it must have been like over 3,400 years ago at the time of one of the most famous famines, during the time of Moses and the Great Exodus. While a lot of the problems may have been down to "divine plague and pestilence", the fact is that famines also made times hard. But they would not have been so hard if there had been the infrastructure and knowledge, that we have available to us today, for some forward planning.
Saving For Retirement – Guidance
Guidance was available at that time. There is the story of Joseph who was asked to interpret the dreams of Pharoah. One of the dreams told of 7 years of feast, followed by 7 years of famine. The warning was clear, save in the good times or the consequences could be severe.
The longest recorded period of economic contraction was 43 months, during the Great Depression from 1929. In the scheme of things, compared to the time of Joseph, this is relatively short. In fact, the average contraction from the 1850s to 2009 was 17.5 months.
No one can foretell how long it will take to some form of a New Normal, but things will undoubtably change.
Currently, the UK Chancellor is being congratulated from across the political spectrum for the way he has handled the Furlough Scheme- this will surely prevent thousands of businesses from having to lose staff and ensure they stay in business.
Despite the Furlough assistance. many people will have been concerned at the lack of savings that they had to fall back on. Easy credit and excessive consumerism has not helped, as well as too many living too close to the bread-line to save. The positives are that, for those of working age,  this current situation may make people realise that they should not have taken their jobs and ways of life for granted and perhaps they need to consider putting more aside for a future famine or plague in the future.
Tempus Fugit
Someone who is 45 may think retirement at 67 is a long way off. It is not, if you consider that there are only going to be 264 more pay days available for saving for retirement.
Whatever economic cycles we face in the future, there is a danger of a guaranteed famine in retirement if people do not start saving for retirement as soon as things improve. Many do not have savings that can get them through a few months currently, how will they manage 20 to 30 years of retirement? I am thinking also of those expats that do not have full National Insurance Contributions in the UK or the equivalent host state. There could be very limited state support for them.
Summary
While saving for retirement is important, it is also important to review  any current provision you have –
To ensure your investments are suitable in terms of risk and fees.
To ensure your pension and associated products are competitive.
To see if your pension is on target to provide a suitable income in retirement.
Significant cost savings can be made  which all helps avoid the famine in the future.
The views expressed in this article are not to be construed as personal advice. You should contact a qualified and ideally regulated adviser in order to obtain up to date personal advice with regard to your own personal circumstances. If you do not then you are acting under your own authority and deemed "execution only". The author does not accept any liability for people acting without personalised advice, who base a decision on views expressed in this generic article. Where this article is dated then it is based on legislation as of the date. Legislation changes but articles are rarely updated, although sometimes a new article is written; so, please check for later articles or changes in legislation on official government websites, as this article should not be relied on in isolation.
This article was republished on 13th May 2020
---
---
Related Stories:
Advise Me