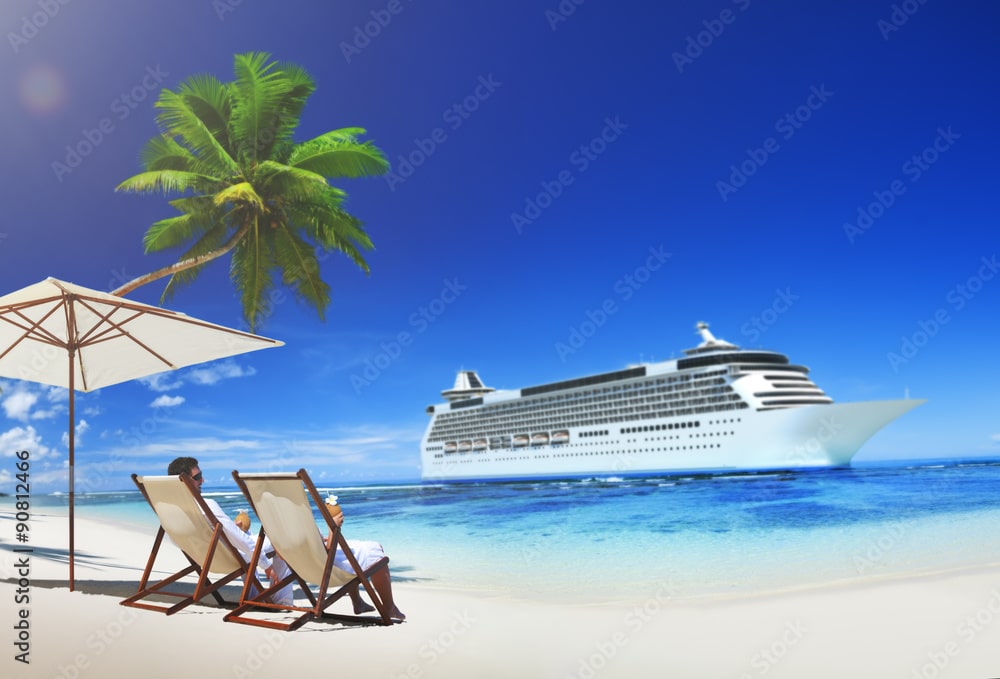 Spending your retirement years at sea on a permanent cruise vacation may sound like an impossible dream out of reach for most senior citizens and pensioners living on a fixed income.
Cruise ships are no longer just for vacations; they are now becoming permanent residences for many retirees.
The rise of the "retire-at-sea" movement has been aided by a recent shift toward longer, more elaborate "world cruises" or "grand cruises" that can last months at a time.
It offers a unique lifestyle, with the opportunity to explore the world, the freedom to come and go as you please, and the potential to meet new people, and enjoy a variety of activities.
Cost is the Biggest Factor
If you think spending your golden years living on a luxury liner would be too costly, there are some new, more affordable options out there.
Whether permanent or semi-permanent, the common gist of retiring on a cruise ship is that you sell most of your earthbound property and belongings and turn the money you've made toward the cost of spending your remaining days on a cruise ship.
Purchasing a permanent residence will cost substantially more – from the hundreds of thousands of dollars to the low millions for first-class year-round amenities and luxurious accommodations.
In most cases, seniors choose the more affordable option – selecting a particular cruise ship to stick with and renting out the same cabin for the long term, on a recurring basis.
These types of repeat cruisers are also eligible for onboard credits towards premium meals, drinks, spas, and other activities that can easily reach hundreds of dollars per voyage.
Before making the decision, it's important to consider the benefits and drawbacks that this type of lifestyle offers.
The Upside of Sea Dwelling
One of the primary benefits of retiring on a cruise ship is that it allows you to explore the world in a way that would otherwise be impossible.
Cruise ships visit a variety of destinations, from exotic islands to bustling cities.
This can be a great way to experience different cultures, try new foods, and visit places that you may never have been able to visit otherwise.
Additionally, living on a cruise ship gives you the freedom to come and go as you please, with no need to worry about booking vacation time or making travel arrangements.
Chasing the Seasons
Many global cruise itineraries deliberately follow the most idyllic seasonal weather patterns between the Northern and Southern Hemispheres to ensure warm summers and mild winters wherever you go.
As far as cost, if you find the right package, living at sea can sometimes be cheaper on a monthly or yearly basis than a top-notch assisted living facility.
If you're not quite as mobile as you used to be, ship life includes a range of full-service 24/7 amenities, food, entertainment, and services right onboard for utmost convenience.
While there are certainly many advantages to living on a cruise ship, there are also some drawbacks that should be taken into consideration.
Some Cons to Weigh
According to some who have taken the plunge, one of the biggest drawbacks of retiring on a cruise ship is the lack of privacy.
On a big ocean liner, you are living in close proximity to hundreds (or thousands) of other passengers and crew members.
This means that you may have little to no privacy when it comes to your living space, and you may feel as though you are constantly being watched or judged.
Cruise ships can also be quite cramped, and if you are prone to motion sickness, the constant rocking of the boat can be a major issue.
It's important to consider the social aspect of cruise ship living – you're away from your extended family for long periods of time and many of the new friendships you make might be transient.
Although you'll meet a variety of interesting people while on board, you may also find that you don't form as strong of a connection with them as you would in a more traditional retirement setting.
Additionally, when you disembark, the people you have met may no longer be around, leaving you feeling somewhat isolated.
Practical Matters to Consider
Another potential issue with retiring on a cruise ship is the cost as it can be quite expensive, especially when compared to traditional retirement options – depending on the package you choose or the deal you get.
The cost of food, accommodations, and other onboard services can quickly add up, and over time, these costs can be much higher than the cost of living in a traditional retirement setting.
Also, cruise ships may not offer the same level of medical care that is available in a more traditional retirement setting.
Options to Travel the World While Living at Sea
 Several companies are now offering permanent residences on their ships for retirees who want to live a life of adventure and luxury.
One of the newest and perhaps the most affordable offerings out there is from Life at Sea Cruises, which is launching a three-year, 130,000-mile cruise for a relatively affordable $30,000 per person per year.
The MV Gemini sets sail from Istanbul on November 1, 2023, giving you eight months to prepare your passport, vaccinations, and remote working abilities.
Amazing Locations to Discover
This cruise promises to visit 375 ports around the world, covering 135 countries and all seven continents.
You'll have the opportunity to see iconic sights such as Christ the Redeemer in Rio de Janeiro, the Taj Mahal in India, Chichen Itza in Mexico, the pyramids of Giza, Machu Picchu, the Great Wall of China, and 103 "tropical islands."
Of the 375 ports, 208 will be overnight stops, giving you extra time to explore your destinations.
The cruise includes Christmas in Brazil and New Year's Eve in Argentina, looping all the way around South America (hopping south to Antarctica), island-hopping around the Caribbean, taking in both coasts of Central America, and going up the west coast of North America before crossing over to Hawaii.
Stops in Asia include Japan, South Korea, China, and most of the classic Southeast Asia destinations.
The cruise also visits Australia, New Zealand, the South Pacific, India, Sri Lanka, the Maldives, Seychelles, Africa (with stops in Zanzibar and Cape Town), and the Mediterranean and Northern Europe.
Decked Out Liner Full of Amenities
The MV Gemini will be overhauled for the voyage and equipped with traditional cruise amenities, restaurants, entertainment, and remote working facilities.
Onboard, you'll have access to a sundeck, swimming pool, wellness center, auditorium, multiple dining options, gym, salon, dance, and music instructors, and singles mixers for those traveling alone.
The ship will have a full-scale business center with meeting rooms, 14 offices, a business library, and a lounge.
There will also be a round-the-clock hospital with free medical visits.
Grab a Cabin for Under $30k
Cabins range from 130 square feet of "Virtual Inside" staterooms to roomier Balcony Suites, with prices ranging from $29,999 per person per year to $109,999 per person per year for the three-year trip.
Single travelers get a 15% discount on the double occupancy rate.
A minimum down payment of $45,000 is required, and passengers must sign up for all three years.
However, the company offers a matchmaking scheme, allowing passengers to "share" a cabin and divide up the travel between them.
Port fees, free Wi-Fi, housekeeping, laundry, all meals, and alcohol at dinner plus soft drinks, juice, tea, and coffee all day are included in the trip.
Pricier Options to Float in Retirement
 The Cruise Web, a Virginia-based company, has launched a Senior Living at Sea program that offers independent and assisted living options for seniors on their ship once they set sail.
The program is designed to provide seniors with a comfortable and luxurious lifestyle, with access to all the amenities and services that a cruise ship has to offer.
You're free to host land-locked family and friends onboard, as you explore exotic locals like Tahiti and as you travel the globe, you'll have a "new view every day."
Amenities include twice-daily housekeeping, gourmet dining with menus prepared by world-class chefs, top-notch entertainment, theater, dozens of daily social activities, educational workshops, maintenance-free living, a full-service staff, and a choice of various private stateroom configurations.
There are no membership dues, maintenance costs, or ownership fees and in addition to booking cabins, Cruise Web handles issues such as shore transfers, ship switches, visas, and insurance.
The cost of a residence onboard greatly varies but you can find out more about the benefits, options available, and other specific information about the program here.
 Coming Soon…
 Storylines is launching a new ship in 2024 that will offer fully furnished one-to-four-bedroom residences, along with studios and two-story penthouses.
The homes can be rented or sold, and those who have a leasehold agreement receive occupancy rights for a certain term up to the full life of the vessel.
With a full outright purchase, the resident owners get a perpetuity clause, which means they are able to roll over into a new residence on a future ship without an additional purchase, making this a long-term investment.
Whether you're a digital nomad or a retiree, they are offering a range of pricing options, from $875,000 to $8 million for a permanent residence or much cheaper shared residences (e.g. timeshares) that can be found here.
Cruisers can Own or Rent
Blue World Voyages is also offering permanent and semi-permanent residences for seniors interested in retiring on a cruise ship.
Its first 350-passenger cruise ship debuted in 2019 and has 26 cabins that can be purchased or rented as a permanent residence.
The ship features a wellness center, a farm-to-table restaurant, a sports deck, and a full-service spa.
Launching next year, it now has registration open to own a piece of what it's touting as its intimate "five-star casual" vessel – the Blue World Residences.
The 40 spectacular one and two-bedroom Residences will soon be available for purchase or rent – you can explore available floorplans, sign up for the waitlist and find more specific pricing information here.
Snapshot:
Several cruise ship companies offer various types of short- and long-term residences on their ships, allowing retirees to live on board and travel to different destinations around the world, including:
But, before making the leap and retiring on a cruise ship, it's always a good idea to consider all the factors that come into play when choosing to sail into the sunset of your retirement life.
Related Stories You Might Also Like
Retire Abroad on Less Than $2k a Month?
Retiring in the U.S.?  These are the Best Cities of 2022-2023
Flush UK Seniors Seek Lavish Retirement Housing
                                                       ###
The views expressed in this article are not to be construed as personal advice. You should contact a qualified and ideally regulated adviser in order to obtain up to date personal advice with regard to your own personal circumstances. If you do not then you are acting under your own authority and deemed "execution only". The author does not accept any liability for people acting without personalised advice, who base a decision on views expressed in this generic article. Where this article is dated then it is based on legislation as of the date. Legislation changes but articles are rarely updated, although sometimes a new article is written; so, please check for later articles or changes in legislation on official government websites, as this article should not be relied on in isolation.
---
---
Related Stories:
Advise Me